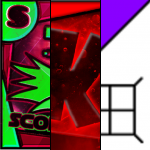 Airkazpio is the best gay ship the GDWiki has to offer.
Description
It all started when Airtoum jokingly gave Kaz kudos on a post that said
"Kudos if you're my secret lover. [lenny]"
Kaz then came to Airtoum's message wall, inviting him to have [redacted].
Of course, this made quite a stir on the wiki, and the stir was only intensified when Airtoum accepted.
Scopio demanded that he be allowed to watch, but was refused. However, he watched anyways, but in ninja-mode.
Rising was told to draw art of it, and she did.
At least twice after that, the three of them got together and [redacted]ed.
Rising drew a short comic about it.